To continue the themes introduced in Turning Over a New Leaf (discovering plants, January) and Plant(ing) Empowered Women (women in horticulture, February), I'm marking Women's History Month with a biographical sketch of Jane Colden (1724-1766), the first documented woman botanist in America.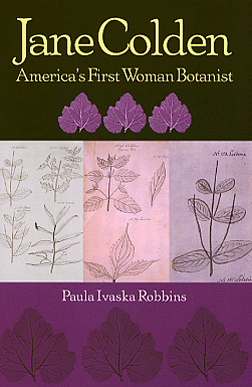 Jane grew up on a 3000-acre wilderness estate called Coldengham, which was granted to her father in 1719 while he was the Surveyor General of the colony of New York. Her father claimed that he had only amateur talent in botany, but his scientific-mindedness and his technical skill as a surveyor made him a systematic observer of the land.
Jane's father encouraged her to pursue her interest in botany. As a contemporary of Carl Linnaeus, Jane was inspired to learn Latin and begin classifying plants she found in and around Newburg (about 60 miles north of present-day New York City). Her talents prompted her father to initiate correspondence between Jane and some of America's most famous botanists of her time.
The idea that Jane was just ten years old when she first started collecting her plant specimens was of interest to participants of Dirt Girls Grow Indoors, who themselves range from 7-11 years old. When asked why Jane had no formal schooling, these youth accurately inferred that even if school had been nearby, girls may not have had the same opportunities to attend.
At the time, nature in general–and the study of plants, specifically–was considered an "acceptable" hobby for women. Some historians even recognize botany and horticulture as gateways for gender-based participation in science. Unsurprisingly, the earliest documented uses of garden-based learning were actually at normal schools founded to train teachers.
Jane's self-taught process resulted in more than 300 line drawings and handwritten descriptions of the plants immediately near her home at a time when the scientific discovery of the "new world" was just getting underway. She eventually produced a manuscript with 284 original entries. This work, Flora Nov-Eboracensis is kept in the Natural History Museum in London.
Jane studied botany until she married in 1759 (at age 34). She died in childbirth several years later, but is remembered for her extraordinary contribution to the scientific study of plants during the colonial period of American history.
---
References
Letters reveal that [Colden's] contributions to botany were recognized by the prominent botanists of her day, including John Bartram, Collinson, Garden, Ellis, and Linnaeus, but over a century and a half passed before a more intimate acquaintance with her manuscript established Jane Colden as America's first woman botanist.

Excerpt quoted from the abstract of an article about Jane Colden written by Smith (1988) and published in the journal Botany.
---